The Son Of God Has Given Approval — Chapter 10 is dedicated to The Son Of God!
Our Christian Brothers, Sisters, and children are being persecuted, tortured, and murdered in Africa, Asia, and the Middle East.
Muslims say and have in their mosque that Allah has no son.
_
Allah is the Muslims moon god — you can see their crescent moon on mosques and on Muslim nations' flags.
Muslims want us to believe that Allah is the Christian God — no way!
_
ISIS literally follows the Quran.
+
The Voice of the Martyrs are loving, lion-hearted workers.
"While some in the secular media spread the misperception that the Islamic State is 'not really Islamic,' everything that ISIS does results directly from its strict interpretation of the Quran" —  from the Voice of the Martyrs, Christians Facing Islamic Extremists published in 2017.
+
___
An 87 year old missionary & friend, Rev. Bill Bathman, let me know that he received an Email from missionaries in Iraq.
ISIS, who say, "Allah is great", came into a city where these missionaries were and murdered the Christian children, because they refused to deny Jesus, The Christ (murdered before their Christian parents).
On January 20, 2015 AD, he told me he has not heard again from the missionaries in Iraq;  they may be martyred (murdered) by ISIS.
Brother Phil
___
When Muslims have less power or are in the minority, they are very polite.
_
Unlike the bribe paying propaganda lies — Islam is the opposite of peaceful — period.
_
"It is the nature of Islam to dominate, to impose its law on all nations and to extend its power to the entire planet.",  Hassan al-Banna, Founder of the Muslim Brotherhood.
___
+
The Holy Bible is the opposite of corrupt.
In addition to more recent archeological finds, the Bible has been proven to be true.
+
Of all the so called "religious" books in the world, none have prophesy in them.
Only the Holy Bible has Prophesy, and God Has Fulfilled most of the His Prophesies, and the rest of the Prophesies — His Prophesies — will take place, as well — I guarantee it.
Brother Phil
___
In addition to ISIS, these lying, stealing, raping, and murdering Muslims want to conquer the world and follow the Quran more strictly:
AL-QAIDA
AL-SHABAB
BOKO HARAM
MORO NATIONAL LIBERATION FRONT  (MORO ISLAMIC LIBERATION FRONT, ABU SAYYAF)
THE MUSLIM BROTHERHOOD
SUDANESE ISLAMIC REGIME
THE TALIBAN.
_
Iran is the weapons source for the Muslim terrorist people HAMAS and HEZBOLLAH in Gaza and Lebanon.
_
Sharia law Wahhabi Islam in Saudi Arabia was identified by the European Parliament as the main source of global terrorism.
__
Do not murder.
Do not commit adultery.
Do not steal.
Do not testify falsely against your neighbor.
Exodus 20:13-16 (NLT)
__
+
Leaders of  mosques have told their Muslim followers to cut themselves to honor former dead mosque leaders, thus the present mosque leaders become more important to their followers by this action.
The Muslims followers cut themselves in the streets in a frenzy, and some of them bleed to death.
+
You may not make cuts in your flesh in respect for the dead
Leviticus 19:28a
+
_______
A little that a righteous man hath is better than the riches of many wicked.
Psalm 37:16 (KJV)
_
They killed those innocent children, and the land was defiled by those murders.
Psalm 106:38 (GNT)
_
Precious in the sight of The Lord is the death of His saints.
Psalm 116:15 (NKJV)
_
These six things doth The Lord hate: yea, seven are an abomination unto Him:
A proud look, a lying tongue, and hands that shed innocent blood,
An heart that deviseth wicked imaginations, feet that be swift in running to mischief,
Proverbs 6:16-18 (KJV)
_
If you are weak in a crisis, you are weak indeed.
Don't hesitate to rescue someone who is about to be executed unjustly.  You may say that it is none of your business, but God knows and judges your motives.  He keeps watch on you; He knows.  And He will reward you according to what you do.
Proverbs 24:10-12 (GNB)
_
or like the relentless heat of the desert.  But You silence the roar of foreign nations.  You cool the land with the shade of a cloud.  So the boastful songs of ruthless people are stilled.
Isaiah  25:5 (NLT)
_
Woe to you, O destroyer, you who have not been destroyed!  Woe to you O traitor, you who have not been betrayed!  When you stop destroying, you will be destroyed; when you stop betraying, you will be betrayed.
O LORD, be gracious to us; we long for You.  Be our strength every morning, our salvation in time of distress.
"Who of us can dwell with everlasting burning?"
He who walks righteously and speaks what is right, who rejects gain from extortion and keeps his hand from accepting bribes,  who stops his ears against plots of murder and shuts his eyes against contemplating evil —
You will see those arrogant people no more,
Isaiah 33:1,2,14b 15 19a (NIV)
_
They eagerly run to do evil.  They are always ready to kill innocent people.  They think evil thoughts. Everywhere they go they cause ruin and destruction.
Isaiah 59:7 (ICB)
_
Happy are those who are attacked on account of righteousness:  for the kingdom of Heaven will be theirs.
Happy are you when men give you a bad name, and are cruel to you, and say all evil things against you falsely, because of Me.
Be glad and full of joy; for great is your reward in Heaven:  for so were the prophets attacked who were before you.
Matthew 5:10-12 (TBIBE)
_
"But whoever denies Me before men, him I will also deny before My Father Who is in Heaven.
Matthew 10:33 (NKJV)
_
"Anyone who is not for Me is really against Me; anyone who does not help Me gather is really scattering.
For this reason I tell you: people can be forgiven any sin and evil thing they say; but whoever says evil things against The Holy Spirit will not be forgiven.
Anyone who says something against The Son Of Man can be forgiven; but whoever says something against The Holy Spirit will not be forgiven — now or ever.
"To have good fruit you must have a healthy tree:  if you have a poor tree, you will have bad fruit.  A tree is known by the kind of fruit it bears.
You snakes — how can you say good things when you are evil?  For the mouth speaks what the heart is full of.
A good person brings good things out of his treasure of good things, a bad person brings bad things out of his treasure of bad things.
"You can be sure that on the Judgment Day everyone will have to give account of every useless word he has ever spoken.
Your words will be used to judge you — to declare you either innocent or guilty."
Matthew 12:30-37 (GNB)
_
"Come!" answered Jesus.  So Peter got out of the boat and started walking on the water to Jesus.
But when he noticed the strong wind, he was afraid and started to sink down in the water, "Save me, Lord!", he cried.
At once Jesus reached out and grabbed hold of him and said, "What little faith you have!  Why did you doubt?"
They both got into the boat, and the wind died down.
Then the disciples in the boat worshipped Jesus.  "Truly you are The Son Of God!" they exclaimed.
Matthew 14:29-33 (GNB)
_
"What about you?", He asked them.  "Who do you say I am?"
Simon Peter answered, "You are The Messiah, The Son of the living God".
"Good for you, Simon son of John!" answered Jesus.  "For this truth did not come to you from any human being, but it was given to you directly by My Father in Heaven.  Matthew 16:15-17 (GNB)
Matthew 16:15-17 (GNB)
_
As they looked on a change came over Jesus:  His face was shining like the sun, and His clothes were dazzling white.
Then the three disciples saw Moses and Elijah talking with Jesus.
So Peter spoke up and said to Jesus, "Lord, how good it is that we are here!  If You wish, I will make three tents here, one for You, one for Moses, and one for Elijah".
While he was talking, a shining cloud came over them, and a Voice from the cloud said, "This is My own dear Son, with Whom I am well pleased — listen to Him!"
When the disciples heard the Voice, they were so terrified that they threw themselves face downward on the ground.
Matthew 17:2-6 (GNB)
_
Jesus called a small child over to Him and put the child among them.
Then He said, "I assure you, unless you turn from your sins and become as little children, you will never get into the Kingdom of Heaven.
Therefore, anyone who becomes as humble as this little child is the greatest in the Kingdom of Heaven.
And anyone who welcomes a little child like this on My behalf is welcoming Me.
But if anyone causes one of  these little ones who trusts in Me to lose faith, it would be better for that person to be thrown into the sea with a large millstone tied around the neck.
"How terrible it will be for anyone who causes others to sin.  Temptations to do wrong is inevitable, but how terrible it will be for the person who does the tempting.
be thrown into Hell.
"Beware that you don't despise a single one of these little ones.  For I tell you that in Heaven their angels are always in the presence of My Heavenly Father."
Matthew 18:2-7,9b,10 (NLT)
_
 They said to Jesus, "Do you hear what these children are saying?" Jesus said to them, "Yes, have you not read the writings, 'Even little children and babies will honor Him'?"
Matthew 21:16 (NLV)
_
Others said, "Wait!  Let's see if Elijah will come and save Him".
Once again Jesus shouted, and then He died.
At once the curtain in the temple was torn in two from top to bottom.  The earth shook, and rocks split apart.
Graves opened, and many of God's people were raised to life.
They left their graves, and after Jesus had risen to life, they went into the holy city, where they were seen by many people.
The officer and the soldiers guarding Jesus felt the earthquake and saw everything else that happened.  They were frightened and said, "This man really was God's Son!"
Matthew 27:48-54 (CEV)
_
The first words of the good news of Jesus Christ, The Son Of God.
Mark 1:1 (TBIBE)
_
For whoever wants to save his own life will lose it: but whoever loses is life for Me and for the gospel will save it.
Does a person gain anything if he wins the whole world but loses his life?  Of course not!
There is nothing he can give to regain his life.
If a person is ashamed of Me and of My teaching in this Godless and wicked day , then The Son Of Man will be ashamed of him, when He comes in the glory of His Father's angels."
Mark 8:35-38 (GNB)
_
David himself, speaking by The Holy Spirit, declared, "The Lord said to my Lord:  "Sit at My right hand until I put Your enemies under Your feet."
Mark 12:36 (NIV)
_
But Jesus kept quiet and would not say a word.  Again the High Priest questioned Him, "Are You The Messiah, The Son of the blessed God?"
"I am", answered Jesus, "and you will all see The Son Of Man seated at the right hand of The Almighty and coming with the clouds of Heaven!"
Mark 14 :61,62 (GNB)
_
He will be great and will be called The Son Of The Most High.  The Lord God will make Him King, as His ancestor David was.
Luke 1:32 (CEV)
_
In that same hour He was full of joy in The Holy Spirit and said, I give praise to You, O Father, Lord Of Heaven And Earth, because You have kept these things secret from the wise and men of learning, and have made them clear to little children:  for so, O Father it was pleasing in Your eyes.
All things have been given to Me by My Father:  and no one has knowledge of The Son, but only The Father, and of The Father, but only The Son, and he to whom The Son will make it clear.
And turning to the disciples, He said privately, Happy are the eyes which see the things you see:
Luke 10:21-23 (TBIBE)
_
"I'm speaking to you as dear friends.  Don't be bluffed into silence or insincerity by the threats of religious bullies. True, they can kill you, but then what can they do?  There's nothing they can do to your soul, your core being.
Save your fear for God, Who holds your entire life—body and soul—in His hands.
Luke 12:4,5 (MSG)
_
And Jesus said to them, the sons of this world are married and have wives;
But those to whom is given the reward of the world to come, and to come back from the dead, have no wives, and are not married;
And death has no more power over them, for they are equal to the angels, and sons of God, being of those who will come back from the dead.
Luke 20:34-36 (TBIBE)
_
I saw this happen to Jesus, so I testify that He is The Son Of God.
Nathanael replied, "Teacher, You are The Son Of God.
John 1:34,49a (NLT)
_
Simon Peter answered, "Lord, there is no one else that we can go to!  Your words give eternal life.
John 6:68 (CEV)
_
And you will know the truth, and the truth will set you free."
So if The Son sets you free, you are truly free.
John 8:32,36 (MEV)
_
You belong to your father, the Devil , and you want to carry out your father's desires. He was a murderer from the beginning, not holding to the truth, for there is no truth in him.  When he lies, he speaks his native language, for he is a liar and the father of lies.
John 8:44 (NIVUK)
_
The thief enters only to steal, kill, and destroy.  I came so that they could have life –indeed, so that they could live life to the fullest.
John 10:10 (CEB)
_
"This is why The Father loves Me:  I give up my life so that I can take it up again.
John 10:17 (CEB)
_
Jesus said to her, I am Myself that day and that life; he who has faith in Me will have life even if he is dead;
And no one who is living and has faith in Me will ever see death.  Is this your faith?
She said to Him, Yes, Lord:  my faith is that You are The Christ, The Son Of God, Who was to come into the world.
John 11:25-27 (TBIBE)
_
And now I give you a new commandment:  love one another.  As I have loved you, so you must love one another.
If you have love for one another, then everyone will know that you are My disciples.
John 13:34,35 (GNB)
_
indeed anything you ask in My Name I will do, that The Father may be glorified in The Son.
John 14:13 (TNEB)
_
These things I have spoken unto you, that in Me ye might have peace. In the world ye shall have tribulation: but be of good cheer; I have overcome the world.
John 16:33 (AKJV)
_
After Jesus had finished speaking to His disciples, He looked up toward heaven and prayed:  Father, the time has come for You to bring glory to Your Son, in order that He may bring glory to You.
John 17:1 (CEV)
_
In His disciples' presence Jesus performed many other miracles which are not written down in this book.
But these have been written in order that you my believe that Jesus is The Messiah, The Son Of God, and that through your faith in Him you may have Life.
John 20:30,31 (GNB)
_
 Who shall separate us from the love of Christ? Shall trouble or hardship or persecution or famine or nakedness or danger or sword?
Romans 8:35 (NIV)
_
that there should be no schism in the body, but that the members should have the same care for one another.
And if one member suffers, all the members suffer with it; or if one member is honored, all the members rejoice with it.
Now you are the body of Christ, and members individually.
1 Corinthians 12:25-27 (NKJV)
_
Troubles are around us on every side, but we are not shut in; things are hard for us, but we see a way out of them;
We are cruelly attacked, but not without hope; we are made low, but we are not without help;
In our bodies there is ever the mark of the death of Jesus, so that the life of Jesus may be seen in our bodies.
For, while living, we are still being given up to death because of Jesus, so that the life of Jesus may be seen in our flesh, though it is under the power of death.
2 Corinthians 4: 8-11  (TBIBE)
_
If we continue to endure, we shall also rule with Him.  If we deny Him, He also will deny us.
  2 Timothy 2:12 (GNB)
_
 Don't forget those who are in prison. Remember them as though you were in prison with them. And don't forget those who are suffering. Remember them as though you were suffering with them.
Hebrews 13:3 (ERV)
_
For The Lord is watching His children, listening to their prayers; but The Lord's face is hard against those who do evil.
1 Peter 3:12 (TLB)
_
Anyone who runs ahead and does not continue in the teaching of Christ does not have God; whoever continues in the teaching has both The Father and The Son.   
If anyone comes to you and does not bring this teaching, do not take them into your house or welcome them.   
Anyone who welcomes them shares in their wicked work.
2 John 9-11 (NIV)
_
I, John, your brother and companion in the suffering and kingdom and patient endurance that are ours in Jesus, was on the island of Patmos because of the word of God and the testimony of Jesus.
Revelation 1:9 (NIVUK)
_
"Write this letter to the angel of the church in Thyatira.  This is the message from The Son Of God, Whose eyes are bright like flames of fire, Whose feet are like polished bronze:
Revelation 2:18 (NLT)
_
They shouted in a loud voice, "Almighty Lord, Holy and True!  How long will it be until you judge the people on earth and punish them for killing us?"
Revelation 6:10 (GNB)
_
And said to the mountains and rocks, Fall on us, and hide us from the face of Him that sitteth on the throne, and from the wrath of The Lamb:
Revelation 6:16 (KJV)
_
He that leadeth into captivity shall go into captivity:  he that killeth with the sword must be killed with the sword.  Here is the patience and the faith of the saints.
Revelation 13:10 (KJV)
_
 And if anyone's name was not found written in the book of life, he was thrown into the lake of fire.
Revelation 20:15 (ESVUK)
_
But as for the cowardly, the faithless, the detestable, those who commit murder, the sexually immoral, those who practice the occult, idolaters, and all liars — their place will be in the lake that burns with fire and sulfur.  That is the second death.
Revelation 21:8 (MR-INT)
_
Outside are dogs, sorcerers, sexual sinners, murderers, idolaters, and all who lie in what they say and what they do.
Revelation 22:15 (NOG)
_
Dear Phil,
A sister in Christ just got a text message from her brother who is part of a mission team in Iraq, asking her to shower him in prayer. He said –
     "ISIS has taken over the city today, and is systematically going house to house to all the Christians and asking the children to denounce Jesus. So far not one child has, and consequently all have been killed, but not the parents. [We] are determined to stick it out for the sake of these families – even if it means [our] own deaths. These brave parents instilled such a fervent faith in their children that they chose martyrdom. Please surround them in their loss with your prayers for hope and perseverance."
      Then the following text message from Sean Malone, who leads Crisis Response International (CRI): "We lost the city of Queragosh (Qaraqosh). It fell to ISIS and they are beheading children systematically. This is the city we have been smuggling food to. ISIS has pushed back Peshmerga (Kurdish forces) and is within 10 minutes of where our CRI team is working. Thousands more fled into the city of Erbil last night [Tuesday]. The UN evacuated its staff in Erbil. Our team is unmoved and will stay. Prayer cover is needed!"
     "Please pray sincerely for the deliverance of the people of Northern Iraq from the terrible advance of ISIS and its extreme Islamic goals for mass conversion or death for Christians across this region. May I plead with you not to ignore this email."
    "Do not forward it before you have prayed through it.  Then send it to as many people as possible. Send it to friends and Christians you may know.  Send it to your prayer group.  Send it to your pastor and [ask] him to pray on Sunday during the service – making a special time of prayer for this.  We need to stand in the gap for our fellow Christians."
Yours in His grip,
Bill
___
Bill Bathman was a clear minded, genuine hero.
Read about the obedient and courageous adventures of the author of the personal letter (above), from Bill Bathman by clicking on the following link:
Bill Bathman — now in His grip
_
A multitude of Christian children were murdered by these Muslim evil monsters.
These power crazy punks may have thought they were a king with their cowardly masks on — "King Herod" — when they murdered  the brave, Christian innocent children.
These Christian children went straight to Heaven and are right now with Jesus and His Glory and Love.
_______________________________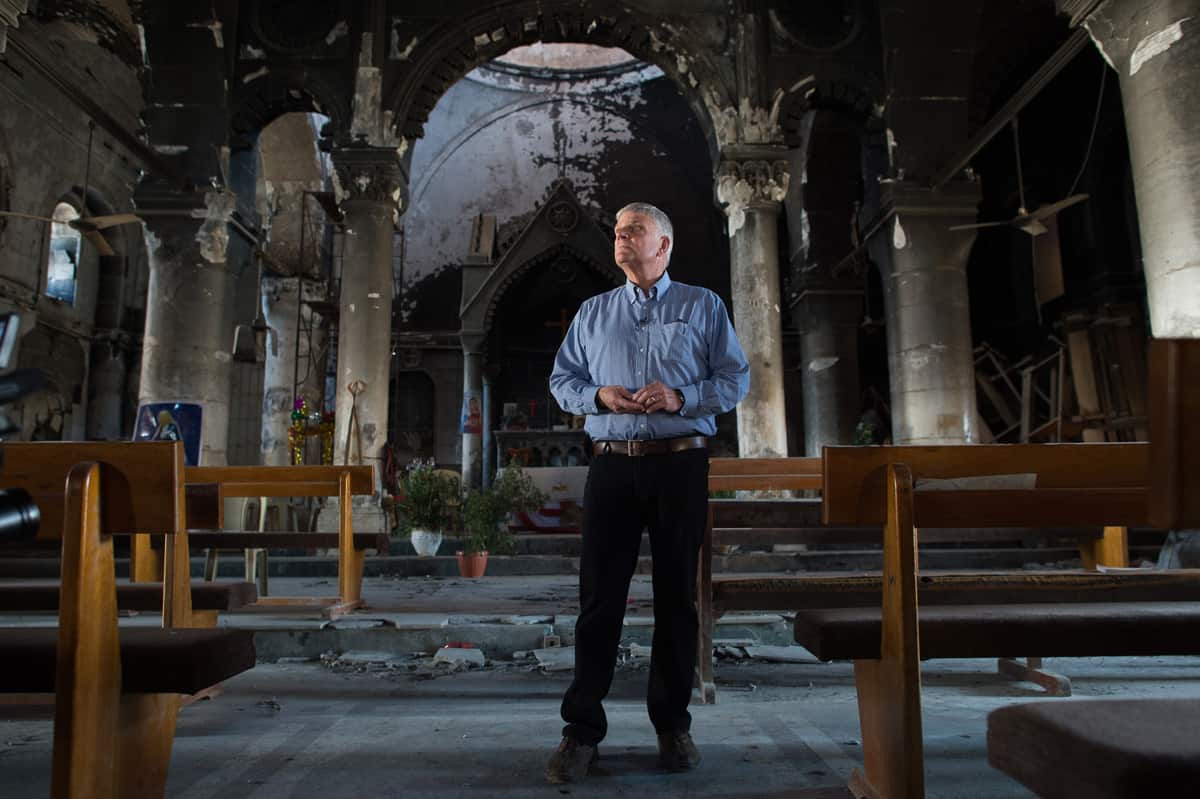 Rev. Franklin Graham
Founder and CEO of Samaritan's Purse
_____________________________________
Remember all of the true Christian children murdered by Muslims in the Iraq city of Qaraqosh!
After I pass on, I hope to be with these children in Heaven.
This website has already shined the light of Jesus in evil countries.
There is more power in prayer in Jesus Name than anything I know.
Please pray for our Christian Brothers, Sisters, and Children in the evil countries around the world.
With Jesus's Love,
Brother Phil Osborne
_______
The Voice of the Martyrs has granted permission for the upcoming short 11 min. 26 sec. movie, that is appearing here.
In addition, I wish to thank The Voice of the Martyrs for working with me on this movie in 2015 AD.
Brother Phil
___
After the spectacular "Safely Home", see the relevant brief interviews, and then hear and see the soulful Song, "The Faithful":
Movie material provided by The Voice of the Martyrs, PO Box 443, Bartlesville, OK  74003, thevoice@vom-usa.org                1-918-337-8015
___
Saeed Abenini is a Christian, who had been unjustly arrested, imprisoned, and tortured by Muslims in Iran for practicing his faith.  He was in an evil prison in Iran and wrote to his 8 year old daughter in America, "People die and suffer for their Christian faith all over the world and some may wonder why?  But you should know the answer of why is Who.  It is for Jesus.  He is worth the price".  After being in Iran's prison system for over 3 years, Saeed Abenini was negotiated out of prison after world demand, after he paid a great price for our Christian Brothers, Sisters, and Children in Iran.
______
"Defend themselves, in their just rights and liberties against the enemies of the Christian faith." , from Rhode Island's Colonial Constitution.
_______
"To the distinguished character of Patriot, it should be our highest glory to laud the more distinguished character of Christian."
George Washington, May 2, 1778 AD
_______
Sing a new song to The Lord; sing His praises, all you who live in earth's remotest corners!  Sing, O sea!  Sing, all you who live in distant lands beyond the sea!
Isaiah 42:10 (TLB)
I have seen in person this Christian song, "Elya", climax in a church with thunderous applause.
_______
White Heart's beginning members were with the Bill Gaither group.
Steve Green [who was a singer in the Bill Gaither Trio, sings earlier on this Page 10] , David and Dann Huff, and Billy Smiley were with White Heart.
I had the privilege to see White Heart perform at an outdoor concert at night with all the stars out at Glenn Miller Park.
After the concert Rick Florian (the lead singer) and I fellowshipped for awhile and talked about the electronic equipment used in the concert.
After many number one hits and albums, White Heart was inducted into the Christian Music Hall of Fame.
Find out why White Heart has been one of the premier bands in Contemporary Christian Music, listening to "The Flame Passes On" here:
_______
After their sold out concert before thousands of people, Marty McGehee, Mark Harris, and Kirk Sullivan (who is the lead Singer here) of 4 HIM met with me.
_______
Please enrich yourself by reading all of the Replies below (except for the foreign languages that you may not know).
_
I HAVE NOT SOLICITED (ASKED FOR) NOR ENDORSED ANY ADVERTISEMENTS,,
BROTHER PHIL